MAP UPDATE FOR UCONNECT® 8.4A (RA3) OR 8.4AN (RA4) NAVIGATION SYSTEMS
IMPORTANT NOTICE:
- Please ensure that you see a NAV button on the home screen of your radio before proceeding. If you do not have NAV on your Uconnect system you should not continue.
- Uconnect 8.4A (RA3) systems that did not come with Navigation at purchase, can activate it by clicking here, or visit your local FCA Dealership.
STEP 1: CHECK YOUR UCONNECT SOFTWARE
Before you purchase the map update, take a quick moment to make sure your vehicle has the lastest Uconnect software (note:  This is a software update, not the map update)
Check the Software Version of your System:
Turn your vehicle on and press the following in this order:

'Apps' icon at bottom of screen
'Settings' then 'System Information'
You will see the 'System Information' screen.  Take a picture of this entire screen as you will also need it for STEP 2.  (You can also Print this page to write down your info)
Look at your 'Software Version' that is shown on the first line of the 'System Information' Screen. Is it at the level below or higher?
United States systems: 

18.45.01 or higher

Canada Systems:         

17.43.01 or higher
YES?  You are all set and no software update is needed!  Proceed to STEP 2.
NO?  Have your VIN ready and click HERE to get your software update from Uconnect.  Once completed, go to STEP 2 to purchase your update.
STEP 2: PURCHASING YOUR MAP UPDATE
You're almost done! Confirm which navigation system you have so you can purchase the correct map update for your vehicle.
Using the 'System Information' screen you captured in       STEP 1, look carefully at the Map Database line.
This line will include either 'VP3' or 'VP4.'  Click on the 'View Product' button (VP3 or VP4) below that matches your Map Database line to order your map update.
Option 1 (VP3)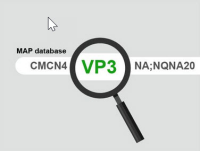 View Product
Option 2 (VP4)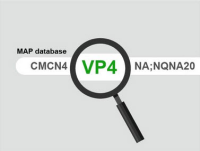 View Product